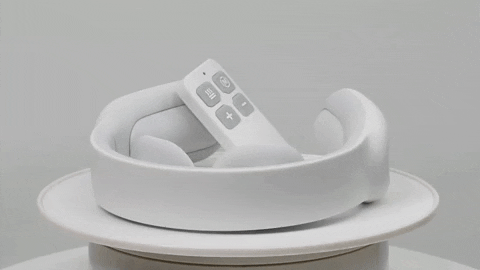 The Smart Neck Massager™ heats up in seconds to mimic warm human hands and delivers "life-like" therapy for neck soreness, shoulder discomfort, and body tension.
Relieve neck and shoulder discomfort anytime, anywhere by soothing pain points. The Smart Neck Massager™ uses low-frequency electrical impulses in association with TENS (Transcutaneous Electrical Nerve Stimulation) technology to restore tired and sore neck muscles.
✓ Relieve neck pain and stiffness
✓ Cervical pain
✓ Body tension
✓ Improve sleep quality
✓ Promote blood circulation
• Warm Relief: Combines low-cycle Acupulse™ Technology and constant heat for calming relief.
• Nerve Stimulation: Experience a deeply effective massage through the stimulation of nerves and muscles.
• Real Massage: Soothes tired muscles, reduces stress, and relieves aches and stiffness by imitating the effects of real massage.
WARRANTY
The Smart Neck Massager™ is made from high-quality material and has been made to withstand proper daily use. In fact, we're so confident in this product's durability that we're offering a 1-year warranty.
SPECIFICATIONS
Color: White/Pink/Dark Blue

Size: 142*138*60mm/5.59*5.43*2.36"

Material: ABS + 304 stainless steel

Weight: 160g

Charging mode: 

USB

Voltage parameters: 

DC5V; 1A; 5W

Built-in lithium battery capacity: 1600mAh

Duration: Massage 15 minutes a day for about 1 month.

Mode: Acupuncture and moxibustion mode, massage mode and knocking mode.
PACKAGE DETAILS

1 X USB Neck Massager
1 X USB Charger
1 X Remote Controller
1 X User Manual